Thimble is taking several steps to protect your sensitive information.
As part of this process, we'll ask you to enter a mobile phone number that we can use to later verify your identify. This helps us keep your account secure by preventing unverified access to your account.
What if I'm sharing a login? We're happy to help you or your agency set up accounts correctly. You can reach out to us for support or follow the next steps to give everyone proper access.
Reach out to your admin and ask them to invite you (and others) to join your organization. This will send you an email that invites you to join the organization and create a new account. Your new account will be connected your organization and the agency admin will see invited brokers' policies, quotes, commissions, and client information.
Follow the link in the email to create a new account (it expires after 24 hours). You'll be asked to provide your own mobile phone number for future verification.
What if I need to update the mobile number associated with the verification process? On the bottom of the screen, you can switch the way you receive the verification code. This selection will send your code to the email you logged in with.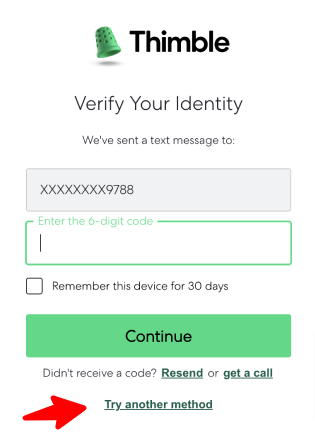 Remember, if you need help throughout this process, you can reach out to us at brokerprogram@thimble.com.